A director of Bath design agency Matter has spoken of his pride to have worked on the new plastic-free poppy launched as part of the Royal British Legion's annual appeal.
As millions of people across the country prepare to mark Remembrance Day this weekend by wearing a poppy, Jonathan Sturgess said he was honoured to have been involved in the first redesign of the iconic emblem for 28 years, pictured.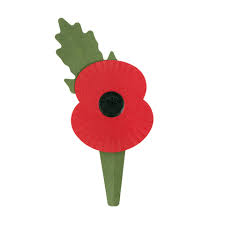 Matter approached the Royal British Legion earlier this year with its design for a sustainable poppy made from bespoke recycled red and green paper.
Jonathan, who is also associate lecturer in Product and Furniture Design at Bath Spa University, said: "As designers, we're always looking for ways to make a positive change.
"We were honoured to be given the opportunity to design the new poppy and we are proud to have removed so much single-use plastic from each yearly production run.
"We work across all categories at Matter, from furniture to washing machines, but even for us, the poppy project was a unique one to be involved with."
The recycled paper used in the new poppy has been produced from a blend of renewable fibres from responsible sources and waste material from the production of coffee cups.
The poppy is fully recyclable and will reduce carbon emissions by 40% compared to the previous design.
The new look is expected to prevent around 80m plastic parts from being produced and then thrown away each year.
The Royal British Legion said the new design maintained the traditional poppy design and leaf shape while being less impactful to the environment.
Earlier this year, Matter designer John Macdonald told the BBC the company had gone through numerous different kinds of iterations to see how it could connect the two bits of paper together.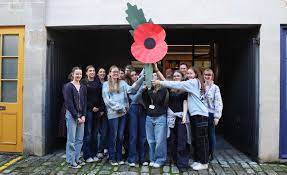 "We eventually came up with a solution that could run down a high-speed production line," he said, adding that the project had "huge symbolism and meaning".
"It is very important to a lot of people and we have worked hard to make sure we maintain the icon," he said.
Royal British Legion poppy appeal director Andy Taylor-Whyte added: "We're so proud to unveil our plastic-free poppy, which is completely recyclable, and hope that this will encourage more people than ever to take part in this year's Poppy Appeal and show support to our armed forces community."
Money raised each year from the sale of the poppies is used to support the Armed Forces community with issues including mobility, homelessness, family breakdowns and mental health.
Since the first poppy appeal in 1921 public donations have provided a lifeline for service people and their families.
Last year the appeal helped more than 27,000 people.
Matter, which works with a range of international blue-chip clients on industrial design, packaging and visualisation, used its work on the new poppy to inspire design students from Bath's Hayesfield Girls' School when they visited its studio this week, pictured above.
The day's agenda for the 16 students included a Poppy Creative Case Study & Workshop, where they were asked to engage in the creative design process, make their own paper poppy and experience a Studio Tour, demonstrating some of the activities that take place in a working design studio.
Following this was a deep-dive into Matter and what the agency does, explaining how it works with a range of brands and companies, and – through an array of design practices – to create impactful products and experiences.
The day ended with a Positive Impact Workshop, highlighting how, as designers, these young students can make positive changes for people and the planet.
Matter design director Lottie King said: "At Matter, we feel very strongly that, as designers, we have a huge responsibility to initiate and drive change for good – and this is how the sustainable poppy came about.
"But we also believe we have a responsibility to pass this ethos onto younger generations, who will ultimately be designing our future.
"We wanted to create an experience for students, whose education is largely classroom based, that would provide practical and tangible examples of how, as designers, they can drive change, while giving them an insight into design studio life."