Bath's burgeoning fintech businesses are helping make the West of England the UK's leading hotspot for the fast-growing sector, according to a new report published this week.
It shows that the Bristol and Bath area has one of the strongest fintech ecosystems in the country, with a high number of fast-growing start-ups and scale-ups.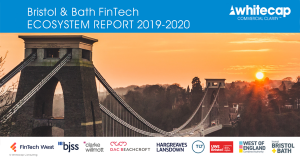 The research, by regional strategy consulting firm Whitecap Consulting – which opened a base in Bristol in 2018 – is the first analysis of the sector in the area.
It found 107 businesses in the sector, more than any other region of the UK. Of these, 28 are start-ups and scale-ups, meaning the Bristol-Bath area enjoys a larger number of early-stage fintech firms than areas with populations more than three or four times its size.
More than 3,400 people are employed in fintech-related roles in the area out of a total of 61,000 in financial services and tech sectors
The 107 firms identified in the report include established financial sector organisations that are harnessing technology, tech sector businesses and early stage fintech firms.
The report, the second in a series of five regional overviews by Whitecap, shows the start-ups and scale-ups are, on average, three years old – lower than any other region Whitecap has researched to date.
The area also has more firms than any other region outside London in the Financial Conduct Authority's regulatory sandbox – the scheme for financial services firms looking to test innovative products and services – while five of the 19 regionally-based participants in the first five cohorts were from the region.
The report, co-authored by Whitecap director & fintech practice lead Julian Wells and South West associate director Stuart Harrison, supported and co-funded by a number of organisations in the West of England, including industry body Fintech West, law firms TLT, Clarke Willmott, DAC Beachcroft, stockbroking firm Hargreaves Lansdown, UWE, IT and business consultancy BJSS and Invest Bristol & Bath, the inward investment arm of the West of England Combined Authority. It also includes forewords from Innovate Finance and TheCityUK.
Bath fintech firms include Altus, which has a £10m turnover and employs more than 70 people serving over 100 financial services clients, and i4C Technology, which has become a market leader in digital cashflow modelling just two years after launch.
Whitecap Consulting managing director Richard Coates said: "This report is published at a time when the UK's fintech sector is maturing and expanding geographically, which has the potential to deliver economic benefit to a number of regions outside London."
He said the Bristol and Bath region had already benefited from this, with established fintech organisations such as Curve, the banking service which aggregates multiple bank cards into one, and ClearBank, the disrupter with a banking-as-a-service proposition, opening bases in the area.
West of England Mayor Tim Bowles added: "The West of England is a vibrant and dynamic hub for innovation in professional services. Fintech brings together our region's talents to revolutionise the way that the sector operates and I'm very pleased to see this report setting out practical recommendations that can make the cluster here even more competitive."
Click here for the full report.