A fledgling removal firm has moved itself into new headquarters in Westbury in preparation for further expansion.
Safari Removals made the move from Twerton to the 7,300 sq ft unit on the Woodland Industrial Estate to enable it to increase its operations.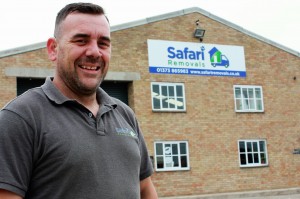 The firm, set up five years ago by director Daniel Bowen, pictured, undertakes international, commercial and domestic removals across Wiltshire and Bath as well as offering a domestic storage service.
Last year Mr Bowen, who previously worked for Pickfords in Bath, was given the opportunity to develop Safari Removals further, hiring more staff and expanding his fleet of trucks.
The firm has signed a 10-year lease with the estate's Bath-based landlord HPH Commercial Property. Carter Jonas associate partner Alison Williams acted for HPH in the letting.
Safari Removals' move comes at a time when warehouse accommodation in Bath is at a premium. As a result, many businesses are look to satellite towns such as Westbury to take advantage of lower rents and better transport links.
Mr Bowen said: "We made the decision to move because where we were based in Bath was closing but we also wanted to start to grow the business.
"We found that other premises in the area were not quite what we were looking for and when we looked at Woodland it was at the right time and exactly what we required. The move has also allowed us to offer a domestic storage service for our customers.
"Westbury is an ideal location because we are still close to Bath but also have easy access to all of Wiltshire. With our new headquarters, HPH has given us the opportunity to grow and has been very supportive these last few months."
HPH managing director Lindsay Holdoway said: "With good transport links and its close proximity to Bath, Woodland Industrial Estate is the perfect location for firms like Safari Removals who want to maintain links with both the city and the surrounding area."