Bath-headquartered utility Wessex Water has welcomed a decision by wet wipe manufacturers Kimberly-Clark to seek official 'Fine to Flush' approval for its products.
The Advertising Standards Authority (ASA) last month banned a website advert for Andrex 'flushable washlets', which do not meet the UK water industry's recognised standard.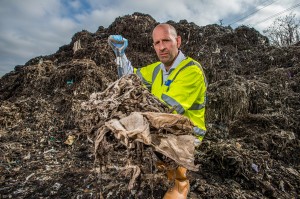 Kimberly-Clark has now pledged to adopt the 'Fine to Flush' standard "at the earliest possible time" and heed the advice of companies like Wessex Water, which has long campaigned for clearer labelling and marketing of wet wipes.
Many wipes on the market are described as flushable but do not carry the 'Fine to Flush' logo, pictured below, meaning they contain plastic and do not break down like toilet paper when flushed.
This can lead to 'fatbergs' in sewers, pollutions and costly blockages – in many cases causing sewage to flood into homes. The result is also a mountain of wet wipes, pictured, that Wessex Water has to dispose of.
Wessex Water director Matt Wheeldon said that a huge proportion of the 13,000 sewer blockages the firm dealt with in its network every year were caused by wet wipes that had not broken down in the sewers.
"The 'Fine to Flush' standard was developed by the water industry body Water UK earlier this year, with a new logo to help avoid confusion and reassure customers," he said.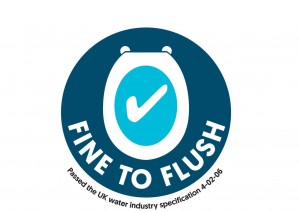 "Having Kimberly-Clark on board feels like a major breakthrough, and Water UK is looking forward to working with them as they seek to meet the 'Fine to Flush' standard for their products."
Bristol-based organic brand Natracare launched the UK's first moist tissue wipe that meets the industry standard, while two Waitrose products – Fragrance Free and Lightly Fragranced moist toilet tissues – have since obtained 'Fine to Flush' approval.
Wessex Water wants all other wipes on the market to be clearly labelled 'Do Not Flush', avoiding any confusion for customers.
"The 'Fine to Flush' logo means free from plastic and rigorously tested, meaning the wipe will not only physically pass around a toilet U-bend but will also break down in the sewer system," added Mr Wheeldon.
"Anything else should be marked 'Do Not Flush', with nothing in between. It's as simple as that."