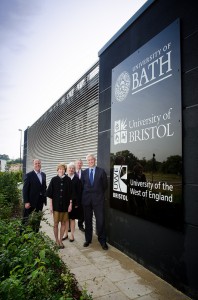 Bristol & Bath Science Park is celebrating the role played by its university partners in putting the region at the forefront of research and innovation.
Large signs naming the three universities involved in the 59-acre park have been unveiled on the Energy Centre building at the park's entrance.
The West is home to some of the world's leading science and research-based businesses and has the highest concentration of PhD graduates in the UK – a fact that is underpinned by the universities of Bristol, Bath and the West of England (UWE). The 3m-high signs, which feature the names and logos of all three universities, recognise the role played by the universities in establishing and supporting the science park – which itself is central to the region's status as a hotbed of innovation.
Science park chief executive Bonnie Dean said: "One of the first things that research-led businesses, whether international or UK-based, ask us about is access to this region's world-class scientific research and development. So we are delighted to be working with these leading universities to help foster collaboration, innovation and the commercialisation of new ideas."
Professor Jane Millar, pro vice-chancellor for research at the University of Bath added: "Every year we help around 150 businesses to innovate for competitive advantage through collaborative research and development. We are delighted to be working in partnership with the Science Park to help deliver this world-leading research."
For Dr Neil Bradshaw, director of research and enterprise at the University of Bristol, the science park provides great "collision space" for ideas.
"We are very pleased to be a big part of it," he said. "Creativity and innovation, which the park is helping to nurture, are key drivers of both the UK economy and the world-leading research carried out at the University of Bristol."
Professor Martin Boddy, pro vice-chancellor – research and business engagement at the UWE added: "Our partnership with the Bristol & Bath Science Park will help cement our growing reputation for outstanding user-led research applicable to real world problems and support for business innovation."
The science park acts as a hub for the region's many science and technology businesses, connecting entrepreneurs, fledgling businesses and established brands with vital investors, academia and design.
It provides a professional and supportive environment for collaboration between universities and businesses to accelerate the commercialisation of new and applied technologies.
As well as serviced office space, high bandwidth, excellent communications and conference facilities, Bristol & Bath Science Park tenants have the use of The Forum, a striking glass-fronted communal area, available for networking and food and refreshments, which is also open to the public and other businesses.
Pictured: Richard Pitkin (Science Park Innovation Centre Director), Bonnie Dean (chief executive Bristol & Bath Science Park), Jane Millar (University of Bath), Martin Boddy (UWE) and Dr. Neil Bradshaw (University of Bristol)