Barclays Bank has supported the development of Frome's ambitious new £10.3m health centre.
The state-of-the-art primary care centre, some 10 years in the planning, is the result of the relocation of two existing surgeries in the town and the Beckington Family Practice.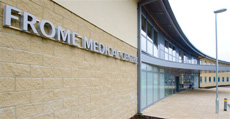 The 4,500 sq m building offers a wide range of health-related services including a pharmacy, opticians providing acute eye-care services, mental health services for adults and the elderly and a healthy living café, with the aim of making health care more accessible to the community.
The development, alongside the town's community hospital, completes the Frome Health Park.
Providers such as the Royal United Hospital and Shepton Mallet Treatment Centre have moved outpatients' clinics to the centre so patients can be seen closer to home and the consultants can have a closer relationship with patients' GP.
Private chiropractic, physiotherapy, plastic surgery, cosmetic and complementary health services are also available in the building, which was completed by Interserve Construction in January.
Practice senior partner Dr Tina Merry, said: "We are delighted to see the official opening of the medical centre after many years of planning. We believe this is a unique facility being situated alongside the community hospital and combining primary care with both secondary care, community-based, complementary and private services under one roof."
Barclays healthcare relationship director Julian Kilsby added: "Barclays has supported a number of GP schemes across the region recently, demonstrating our appetite within the healthcare sector to support projects which bring real benefits to the local community and local economy.
"Barclays is committed to using our industry expertise and specialists to support such propositions, which enable medical centres such as this to expand and invest for future prosperity and the welfare of local patients."