Five firms from the Bath area have been honoured by the Queen in her Awards for Enterprise scheme, with three of them - sex toy firm Lovehoney, digital science publisher SelectScience and specialist chemicals firm Glentham Life Sciences – gaining the accolade for the second time.
Lovehoney, Europe's largest manufacturer and online retailer of pleasure products, landed its first Queen's Award for International Trade five years ago. Since then overseas sales have grown by 365% to £56m.
SelectScience received its first Queen's Award – also for international trade – in 2013. This team the firm has chosen to dedicate its prized award to the scientists, healthcare professionals and scientific manufacturers who have risen to the challenges of the pandemic with such resilience and innovation.
Glentham Life Sciences, which sources and supplies fine chemicals, biochemicals and raw materials for use in research laboratories from its base in Corsham, won its first International Trade Award I 2017.
Other winners this year include Frome-based Watson Gym Equipment and Scanning Pens, the Westbury-based EdTech business that supplies text-to-speech devices to people with dyslexia and literacy differences.
They are among 205 organisations nationally to be recognised with the prestigious awards, which are now in their 55th year, in the categories of Innovation, International Trade, Sustainable Development and Promoting Business via Social Mobility.
Lovehoney chief commercial officer Debbie Bond, pictured, said: "We are thrilled to have received official recognition from the Queen.
"Her Majesty has been a wonderful supporter of Lovehoney as we have grown into being the world's leading sexual wellness brand.
"Royal patronage will help us to create more jobs at our Bath headquarters and in our international offices and spread the sexual happiness message globally.
"The Queen is the UK's greatest trade ambassador and royal approval shows again how mainstream shoppers and retail outlets are embracing sexual wellness products as never before and appreciating their importance in improving overall well-being – a particularly important message as we come out of lockdown after a stressful year living with the pandemic."
As well as its UK site, Lovehoney has eight others globally including in the US, Australia, France, Germany, Spain, EU, Canada and New Zealand. Globally it boasts a customer base of 2.2m.
Earlier this year it said a surge in sales of sex toys during the pandemic had resulted in 70 more staff being taken on at its Locksbrook Road head office and warehouse, taking its total global workforce to around 340.
From its global HQ in Corston, SelectScience provides trusted online information to scientists around the world at the forefront of advancements across multiple scientific disciplines, including critical fields such as Covid-19, cancer research, drug discovery, sustainability, food quality and clinical diagnostics.
It been spearheading digital communication in science since it was founded in 1998, connecting scientists and scientific manufacturers through peer-to-peer product reviews and resources such as webinars, eBooks and revolutionary video platform. It employs around 35 people locally and others around the world.
When coronavirus struck early last year, it responded rapidly to support the industry through the crisis as the usual global calendar of physical conferences was cancelled.
After launching a series of new virtual events and other online tools to help ensure scientific collaboration could continue, the company has been having its best year on record, building an international audience of more than 5m scientists.
SelectScience CEO Kerry Parker said: "What an incredible honour and proud moment for all of us at SelectScience. I'd like to thank every member of our outstanding team for their passion and commitment to delivering high-quality information, great content and exquisite service.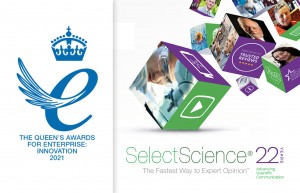 "Now more than ever, we are seeing the importance of effective communication within the science industry, and we feel privileged and humbled to be able to play our part in that."
Watson Gym Equipment, which targets its range of dumbells, bar bells, weights and benches at specialist gyms and training facilities, started in 1999 when Simon Watson began designing equipment from his small garage and making everything by hand before delivering to customers.
Today it employs 50 people with a goal to achieve £20m turnover in the next three years by expanding capacity through its continued growing international reputation.
Its international sales have grown from £1.9m to £2. 7m over the past three years and now make up 57.5% of total revenues with its top markets the US, Australia, Netherlands, France and Germany.
Glentham Life Sciences has also been recognised for its excellence in international trade.
It was founded in Wimbledon in 2013 by co-directors Sam White and Nicholas Zieleniewski and moved to Corsham in 2015 after outgrowing its original premises.
Two years later it was awarded the Queen's Award for Enterprise for Outstanding Short Term Growth in the International Trade category, and has since gone from strength to strength.
It has doubled its staff from five to 10, started its own small-scale production, averaged double the number of dispatched orders per day and is now selling to more countries internationally, with key partnerships now active in countries including South Africa and Vietnam, during the accounting period considered by the 2021 award.
It has also continued to grow as an essential supplier for Covid-19 test kits and for research into Covid-19 therapies. More recently, it moved to larger premises in Corsham, increasing its warehouse space more than fourfold to 22,000 sq ft, built additional laboratory and production space to cater for the growth and employed a further six staff, taking total staffing to 16.
Sam said: "The award is a tremendous achievement for our team, whose hard work has continued to drive sustained growth and success for our company."
Scanning Pens was created in 2003 by Oxford Brookes graduates Jack S. Churchill and Toby Sutton (COO).
CEO Jack Churchill, who has dyslexia, has worked tirelessly for the past decade to establish the frm at the heart of the global dyslexia community and to truly change the narrative for people with dyslexia and literacy differences.
Its devices represent a huge quality-of-life change for neurodiverse people, and work by allowing users to scan through and listen to texts via an audio feedback system.
Removing the need for in-person readers and modified texts, they make reading an independent act, and help people who struggle with reading able to engage with texts in the same way that a neurotypical person might.
From working through a history exam or reading the latest bestsellers to the day-to-day admin tasks of running a business, their devices are designed to make reading accessible and simple, so that users can focus on what matters.
Sam said: "To be recognised by the Queen's Awards for Enterprise is the highest honour in business. We're thrilled that our dedication to literacy and reading accessibility has been acknowledged in such a way that celebrates the commitment of everybody here at Scanning Pens."