Bath's most prestigious address – No.1 Royal Crescent – has re-opened with a new immersive experience that allows visitors to see how life was lived in Georgian Bath.
Using an innovative mix of digital projections and sound featuring actors, the story of one family living in the house shortly after it was built in the late 18th century is brought to life.
Visitors eavesdrop on their conversations as the tour takes them from the dining room and parlour to gentleman's retreat before climbing the grand staircase to explore the withdrawing room, pictured, and lady's chamber and, on the top floor, the gentleman's bedroom with its exquisite views across the Royal Crescent.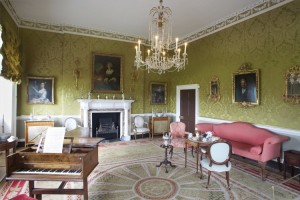 Life below stairs is also revealed, with new displays in the servants' hall, housekeeper's room, kitchen and scullery, where the household staff's conversations are also heard.
The museum, one of four in the city owned by Bath Preservation Trust, has been decorated and furnished just as it might have been during the period 1776-1796.
The rooms feature historic furniture, pictures and objects that reveal what life was like for Bath's fashionable residents – both upstairs and downstairs.
Pictured: Bath Preservation Trust chair Thomas Sheppard and Mayor June Player re-open No1 Royal Crescent