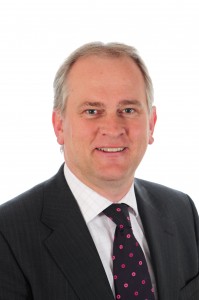 Developers of large warehouses – so-called big sheds – are starting to buy sites in the West, positioning themselves for an upturn in demand, according to commercial property advisors GVA.
However, the firm's annual Industrial Intelligence report warns that the region is facing a shortage of good quality accommodation because of the lack of speculative development.
GVA's industrial agency director in Bristol Paul Hobbs, pictured, said: "Availability of good stock is falling fast.
"While there is not a drought of space, a moderate upturn could lead to a fast recovery in rents and values for existing prime stock. There is no speculative development in the region and that is likely to continue throughout 2012."
He added that businesses generally exercised understandable caution last year, although there were some notable developments with B&Q opening an 800,000 sq ft distribution centre in Swindon, as did Morrisons in Bridgwater while the Co-op is constructing a 420,000 sq ft distribution centre in Avonmouth.
Activity in the distribution occupier market remains focused on retail, especially food, internet operators, discount retailers and the automotive sector.
The report also shows an increase in major retailers looking to locate their distribution points near rail connections. One factor thought to be driving this move is the growing importance of the corporate social responsible (CSR) agenda for all commercial companies. The report adds that the energy sector is growing in the West.