Firms could move out of Chippenham – taking with them much-needed jobs – if the future of the town's major redevelopment area remains uncertain, local businesses are warning.
The Central Chippenham Partnership (CCP), the consortium seeking to redevelop the high-profile 54-acre site, which includes the industrial area of Langley Park and the Hathaway Retail Park, says consultation among local businesses showed pent up demand for their scheme.
CCP recently held a series of consultation workshops and meetings with companies based at Langley Park, as well as key stakeholders and the wider business community. CCP also hosted a public consultation event over three days to receive feedback from the public on the emerging plans for Langley Park and Hathaway Retail Park.
While the retail park is thriving with tenants such as B&Q and Halfords, much of Langley Park is disused, with buildings dating back to the 19th century when it formed a major industrial complex. The site, which runs alongside the main London-Bristol railway line, later became the base for the giant Westinghouse rail equipment manufacturing business.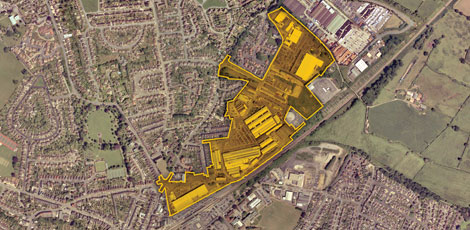 A CCP spokesman said: "Feedback received from businesses to date calls for much needed enhancement of Langley Park, including improved off site amenities for staff, investors and clients and improved linkages to the town centre,". "Failure to deliver an environment conducive to modern business could result in employers having to consider more suitable business locations."
Clare Quarrington, senior administrator at RFL Communications, based at Langley Park, said: "We employ 38 people and are expanding. Langley Park is a great location for us other than it is half derelict and there is a lack of nearby complementary uses. The location needs to improve to suit the needs of business.
"We fully endorse the proposed plans for investment. It cannot come soon enough."
And at Westcode Semiconductors, which employs more than 200 people at Langley Park and was once part of Westinghouse, director and general manager Ashley Golland added: "Langley Park is a great location for us but being situated adjacent to extensive areas of semi-derelict buildings makes it difficult for us to recruit staff and impacts upon our image when hosting clients and visitors.
"As a major employer at Langley Park, we want to see the Central Chippenham Partnership proposals taken forward and we think a mixed use scheme is the right approach for the site.
"Better retail and amenities nearby, along with better connectivity for the town would be a great boost for us and our working environment."
Wayne Locke, regional director at Ashtenne Industrial Fund, the 50:50 owner of CCP with Aberdeen Asset Management, said: "There are many successful businesses located at Langley Park and we are focussed on ensuring that they play a vital role in developing the new plans for the site.
"Much of the feedback that we have received so far has been positive and in favour of redevelopment. Approval of the plans for Langley Park will ensure that businesses like RFL Communications and Westcode have all of their requirements fulfilled and that they remain in Chippenham, continuing to boost the town's business economy."
CCP is continuing to receive feedback and all comments received will be considered and will shape the final plans, which will be submitted to the council in January.