Bristol Airport's expansions plans have been slammed as "badly judged, badly timed and bad for our planet" in a dramatic U-turn by the West of England regional body's political leadership.
The West of England Combined Authority (WECA), which covers Bath and is now led by Labour Metro Mayor Dan Norris following his election in May, voted to formally oppose the airport growth from a capacity of 10m passengers a year to 12m.
WECA's volte-face – which reverses its previous support when Mayor Norris's predecessor Conservative Tim Bowles led the authority – will now be submitted to the government's current planning inquiry into the scheme.
Mayor Norris, pictured, said: "Plans to expand Bristol Airport are badly judged, badly timed and bad for our planet.
"This vote sends an important signal to people living across the West of England that politicians are prepared to show moral leadership and listen to public opinion."
Bath & North East Somerset Council (B&NES) leader Kevin Guy backed the WECA motion, saying he welcomed the authority's "refreshed principles for a refreshed climate emergency ambition".
The leader of the Liberal Democrat-controlled council, who sits on WECA's Joint Committee along with Labour Mayor of Bristol, the Conservative leader of South Gloucestershire Council and the Independent leader of North Somerset Council, had earlier called on WECA to show "much more ambition" in its plans to tackle the climate emergency and deliver net zero.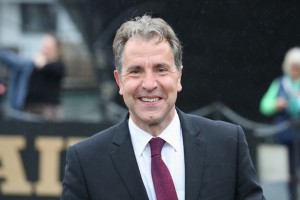 Cllr Guy said: "Tackling the climate and ecological emergencies are the most important issues facing us today and as the combined authority leads on transport, housing, business and skills it has the power to lead change.
"It's why this administration put pressure on WECA to declare a climate emergency and why I called the authority out for lacking ambition.
"We have to be brave, we have to be bold and we have to stand firm. There is no doubt more flights would equal more emissions from aircraft and more emissions from traffic as passenger numbers increase.
"At a time when the climate crisis has been described as 'code red for humanity' it is, quite frankly, irresponsible to even consider expansion."
But South Gloucestershire leader Toby Savage ridiculed the motion as "useful as a chocolate teapot" as the decision lies with Planning Inspector.
Mayor of Bristol Marvin Rees, who has backed the airport's plans, did not attend the WECA meeting and his deputy Craig Cheney abstained.
The planning inquiry is expected to continue into next month. It was triggered by Bristol Airport's appeal against North Somerset Council's decision to refuse it planning permission.
At the time of the refusal – shortly before Covid-19 forced its near closure – the airport expected to breach the 10m restriction on its current planning permission within months. However, the pandemic has drastically reduced its passenger numbers in the 18 month since.
The airport's owner Ontario Teachers' Pension Plan says the expansion would generate an extra £1.4bn for the regional economy over 10 years and create 800 jobs on-site and a further 5,000 around the region.
Bristol Airport claims policies it either already has in place or plans to introduce will offset any environmental issues linked to its expansion. Its proposals are backed by the West of England's main business groups who see increased airport capacity as ensure to allow the region's economy to grow.
The airport recently said it was on course to become carbon neutral later this year and would hit targets it originally expected to reach in 2025 – setting it up to gain the title of the UK's first net zero airport by 2030.