Fans of craft beers will be able to enjoy a brewery-fresh tipple in a socially distanced way from tomorrow when Yonder Brewing & Blending throws open its gates.
Outdoor seating and full table service will be available every Saturday from now on at the modern farmhouse brewery in the Mendips – enabling beer lovers to try its eclectic range made using locally foraged ingredients.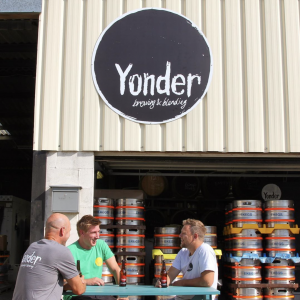 The outdoor shipping container bar will feature 10 taps of the freshest Yonder beer flowing straight from source, with soft drinks and snacks also available.
Local street food vendors will be serving a selection of hot and cold food, with options for vegetarians, vegans and any food intolerances.
Cans and bottles of Yonder beers will be available to take away.
Open days featuring live art with mural painting on Yonder's brewery walls are being lined up with brewery tours and foraging walks planned once these are allowed.
All of Yonder's beers use locally foraged ingredients, which showcase the incredible variety of flavours available on its doorstep while also minimising food miles.
The latest additions to its range are Mrs Patterson, a pear, blackberry and ginger pastry sour beer brewed as a tribute to the iconic mother from the popular alternative comedy TV series Harry Enfield & Chums, and Serpents, a craft beer and cider hybrid produced in collaboration with Somerset's Pilton Cider.
Based near Binegar, Yonder was founded nearly three years ago by Jasper Tupman and Stuart Winstone, who formerly worked at the Wild Beer Company near Shepton Mallet.
The pair, who share a passion for foraging, fermentation and flavour, invested everything they had to build their unique vision of carefully crafted beers with a strong sense of place.
Last year Yonder marked a further phase of development when it started to expand its innovative, modern farmhouse brewing to a wider audience in the UK and beyond.
Stuart said: "We are extremely excited to be able to open the gates to our farmhouse brewery in Somerset. We are surrounded by nature and history and a visit to the farm makes a great escape on a Saturday between spring and autumn."
The brewery open days will be from noon to 9pm.