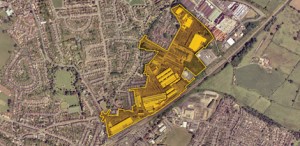 Central Chippenham Partnership (CCP), the joint venture between two major property investment funds (Aberdeen Property UK Retail Parks Trust and Ashtenne Industrial Fund), has revealed dates for a community consultation exhibition to invite feedback from the community on its emerging plans for substantial investment and regeneration of a 54 acre site, adjacent to Chippenham train station.
The owners of Langley Park and Hathaway Retail Park have already hosted a number of workshops and walk-around events on site with key stakeholders, local businesses and local schools and the next stage of consultation will enable the people of Chippenham to share feedback received to date and to offer their own views on how this area of the town should develop.
CCP's site, the area of which is equivalent to almost 22 Wembley Stadium pitches, is largely made up of semi-derelict land and buildings, and offers significant potential for increased employment, tourism and retail prosperity in Chippenham.
The partnership is considering how its investment would be best employed to deliver new jobs and to increase levels of retail and leisure expenditure in the town centre.
The CCP plans to bring forward a quality, mixed use scheme, which will incorporate much improved amenities for the town and for the resident businesses on both parks.
The event will take place on the 8th, 9th and 10th November 2012 – times and locations are detailed below:
Thursday 8th November (17.30 – 20.30) St Paul's Church Hall, Malmesbury Road, Chippenham
Friday 9th November (11.00 – 17.30) St Paul's Church Hall, Malmesbury Road, Chippenham
Saturday 10th November (10.00 – 16.00) The Town Hall, Chippenham