A hotel near Bath is to give discounts on overnight stays if guests commit to helping make it a more sustainable venue, including taking quicker showers and reusing towels.
Bowood Hotel, Spa and Golf Resort, pictured, says the aim is to educate guests on its energy conserving practices by encouraging them to adopt sustainable habits.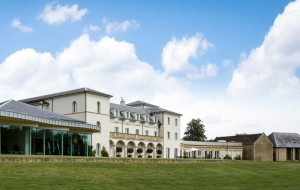 The venue, on the 2,000-acre Bowood Estate near Chippenham, gave examples as brushing teeth with the tap off, spending no more than three minute in the shower and not putting towels in the laundry after one use.
It said the challenge was to try and reduce February's carbon footprint this month compared to January. Should the target be met, any guests who stay at the hotel this month will be entitled to a discounted future stay at the hotel.
The Bowood Estate, which has been owned by the Lansdowne family since 1754, has installed low-energy light bulbs throughout the hotel and resort while wood from the estate is used to fuel fires in public areas.
Wood chip also sourced from the estate's woodland is used in a 500kw biomass boiler that provides heating and hot water and the primary water source for the resort's PGA golf course irrigation system comes from the estate's private water supply, so reducing the reliance on treated mains water.
The hotel and wider estate's dedicated sustainability committee has further eco-plans in place, including buying half its services and consumable supplies within a 50-miles radius by next year, generating renewable energy on the estate by 2025, and by 2030 reducing direct fossil fuel consumption by 50%.
Additionally, Bowood has reduced single-use plastic in its hotel bedrooms by more than 90% – with an ambition to have removed it all by this summer.
Bowood Hotel, Spa and Golf Resort general manager Jeff Condliffe said: "When it comes to making a positive difference though, the smallest of actions can have an impact and we're encouraging our guests to make small changes where they can.
"However, it's often tricky to get people's buy-in without some form of incentive, so we wanted to set guests a challenge to encourage their involvement.
"With January a fairer month to compete against than December, we're challenging guests to help us reduce our output for February – with our hotel team getting involved too."
He said despite the rise in energy bills, the venue had sustainable processes in place for years, which meant it had been affected less than others.
"However, an environmentally friendly approach runs throughout our ethos – so we're keen to emphasise the things we can be doing at a time when it's foremost in people's minds," he added. "We're hoping this initiative will add an element of fun to a serious issue!"