A site manager working for Bath housing firm Curo on its flagship development on the city's outskirts has won a top industry award for a second consecutive year.
Alan Mapston, pictured, senior site manager at Mulberry Park – where Curo is building nearly 700 homes – received the National House Building Council's (NHBC) Pride in the Job Award for his leadership, dedication and commitment to top-quality homes.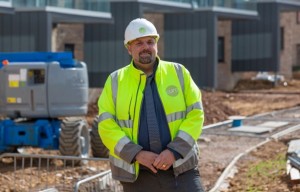 The competition, which was launched more than 40 years ago, celebrates the role of site managers in ensuring that homes are built on time, on safe sites and to the highest quality standards.
Alan is one of just under 450 people to have been honoured with the award this year, from a pool of more than 8,000 site managers from across the country.
Alan joined Curo three years ago and has been leading the site team at Mulberry Park, pictured, ever since.
He said: "I'm proud to be part of such a dedicated site team at our Mulberry Park development.
"It's a privilege to see this large-scale brownfield regeneration project turning into an attractive, sustainable neighbourhood that puts residents and community first.
"I'm really pleased to have won this recognition for a second consecutive year, not just for myself but for the entire team here at Mulberry Park, who are working hard to make our customers happy along with our contractors, labourers and my assistant site managers Grant Wells and Lee Clarke."
Regional housing association and housebuilder Curo manage more than 13,000 homes and builds hundreds of new homes a year.
Its Mulberry Park at Combe Down – where it has already built more than 500 homes – is creating a new neighbourhood for the city with open spaces and community facilities. Work on site is due to finish in 2026.