Bath's Royal Crescent Hotel & Spa has become the first hotel in the South West to achieve a prestigious accreditation for environmental responsibility.
The Green Key Award was presented to the 45-bedroom hotel, pictured, following a rigorous sustainability assessment which looked at factors ranging from the water flow in guest bedrooms to the kitchen's produce supply chains.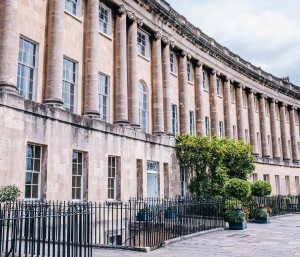 The leading tourism industry standard for excellence in environmental responsibility and sustainable operation, the Green Key eco-label represents a commitment by businesses that their premises adhere to the strict criteria set by the Foundation for Environmental Education.
The Royal Crescent's sustainability and CSR (corporate social responsibility programme is managed by the hotel's dedicated Green Team led by marketing manager Mary Stringer.
The team is responsible for creating a number of strategies that focus on protecting the environment and giving back to local communities.
It worked with sustainability consultancy Cambridge-based Mission : net zero to prepare for the Green Key Award audit.
Green initiatives adopted by the hotel to make a positive impact include reduction strategies for energy, water and waste, supporting nature conservation and biodiversity, and sourcing local produce and suppliers for the restaurant.
It also recently installed three electric vehicle charging points to encourage guests to travel in a more environmentally friendly way.
Head chef Martin Blake picks many herbs for his dishes fresh from the hotel's acre of gardens, which are home to three rescue hedgehogs and also benefit from biodiversity-friendly gardening techniques such as minimal pesticide usage and pollinator-friendly planting.
The hotel has also reviewed its many suppliers to ensure that their products, packaging and/or processes are aligned with its own sustainability policy.
The Green Team works with a number of Bath charities, including Julian House, which is committed to helping the homeless.
Fundraising events for Julian House have included taking part in its annual Big Bath Sleep Out, where the hotel's staff slept rough for a night to experience life on the streets first hand.
Other charities and communities it supports include the National Garden Scheme, The Pink Ribbon Foundation, Room To Reward, and students from Bath College.
The hotel is also supporting a project to 're-wild' a section of the ha-ha at the bottom of the Royal Crescent lawn, where a local school is planting wildflowers.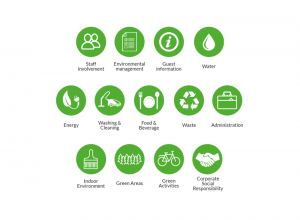 Royal Crescent general manager Lorraine Jarvie said gaining Green Key accreditation was testament to the hard work of its Green Team.
"As a hospitality business, we inevitably impact the environment and our local community and therefore, we have a responsibility to mitigate our impact," she added.
"Gaining this award was our number one goal to demonstrate to our guests, staff and to the wider hospitality industry, that we take sustainability and our CSR programme very seriously and that we will continue to do so."
Mission: Net Zero founder and CEO Simon Catterick said socially responsible investors were continually using Environmental, Social and Governance (ESG) criteria to measure the sustainability and ethical impact of a business.
"The Green Key scheme is acknowledged worldwide as an indicator of excellence in the field of environmental responsibility and sustainable operation as well as acting as an independent hallmark of 'green quality' in the hospitality sector," he added.
"Guests are promised that by opting to stay with Royal Crescent Hotel and Spa they are helping to make a difference on an environmental level, giving the business a competitive advantage with a certified grading that sets it apart from other five-star hotels and spas in the South West without any accredited green credentials."
The Green Key scheme is managed in England by environmental charity Keep Britain Tidy.
Its chief executive Allison Ogden-Newton OBE said: "We are delighted to award this iconic hotel Green Key certification for the first time after a rigorous judging process.
"This historic Green Key establishment has proven that luxury and sustainability can go hand-in-hand, meaning guests do not have to compromise in order to curb their impact on the planet."
Earlier this month the hotel, which is owned by London-based, privately owned investment group Topland, was named the best large hotel at VisitEngland's annual Awards for Excellence.
Pictured: Royal Crescent general manager Lorraine Jarvie, centre holding certificate, and marketing manager Mary Stringer, fourth left with plaque, at the Green Key Award ceremony in the hotel grounds. Photo by Brendan Foster Photography