Bath's long-awaited creative centre in the city's former Stothert & Pitt crane works has been officially launched – with more than half the space already let.
The once-derelict riverside buildings on Lower Bristol Road have been transformed by developer and regeneration specialists TCN into modern workspace of the type that firms in Bath's burgeoning creative sector had previously to move out of the city to find.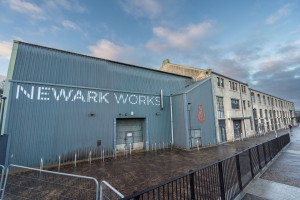 The Grade-II listed, 40,000 sq ft buildings also form a major part of the Bath Quays scheme, which along with the neighbouring No.1 Bath Quays building, is creating the first new showpiece office development for the city for 30 years.
Historic Newark Works, where Stothert & Pitt built crane that were used around the world, was bought by London-based TCN in 2016 after it had completed similar schemes in a former piano factory in Brixton, South London, and in Bristol, where it to transformed buildings next to Temple Meads railways station into creative hubs.
Stothert & Pitt, known as 'cranemakers to the world', was at one time Bath's largest employer and also provided the machinery that built the Great Western Railway. It closed in 1989, effectively ending Bath's industrial age.
When finished, the transformed Newark Works will be able to accommodate around 50 businesses employing in the region of 700 people, with its unique and iconic industrial-style offices accommodating single co-workers through to companies of up to 40 staff.
The restoration and retrofitting celebrates it's the site's historic and entrepreneurial origins by retaining original features – including some of the cranes – as focal points in the building.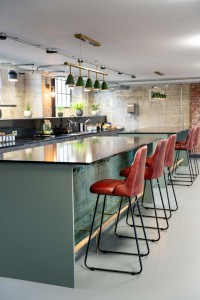 Working with Bath-headquartered international consulting engineers Buro Happold and Bristol architects Ferguson Mann, TCN used innovative engineering techniques and materials to create a modern, 21st-century workspace in a significant historic building.
TCN co-founder Richard Pearce said: "We are beyond excited for Bath to finally see Newark Works in its most complete form after working on the project painstakingly for over 10 years.
"TCN is looking forward to not only bringing a new creative hub to the city, but to having breathed new life into a building of historic significance while using roughly a third of the carbon footprint of a new construction.
"We are eager to deliver an attractive, creative hub for everyone to use, providing inspiring spaces in which bright individuals and innovative companies can truly thrive."
Buro Happold Bath office director Claire Smith said that as Newark Works and the wider Bath Quays regeneration were next door to Buro Happold's HQ, it had been something the entire business had been proud to be part of.
"Taking a building with a history of engineering, applying our own expertise, and transforming it into a space designed to meet modern needs has not only given us the opportunity to create high-quality workspaces for business and individuals locally, but also pay homage to the rich history of the city," she added.
"We're looking forward to seeing new talent and businesses make Bath their home."
Pictured outside Newark Works, from left: TCN co-founders Toby Bidwell and Richard Pearce, TCN managing director Robert Hoadley, BANES director of regeneration and housing Simon Martin, Buro Happold Bath office director Claire Smith and BANES Cllr Mark Roper