Bishopstrow Hotel & Spa, which was acquired by Bath-based boutique hotel group Kaleidoscope Collection in June, has appointed Ashley Torr as operations manager.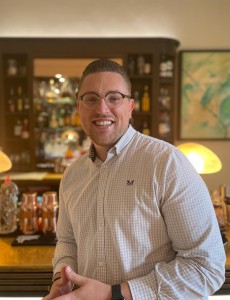 Ashley, pictured, is the first of a number of expected senior hires as Kaleidoscope looks to reimagine and refurbish the historic Georgian country house near Warminster, pictured below.
Kaleidoscope described Ashley as a seasoned hospitality specialist with over a decade of experience, having worked alongside some of the country's greatest hoteliers, chefs and mixologists.
These include the likes of Michelin star chef Richard Davies and hoteliers Richard Ball and Paul Sadler, whose Calcot Collection owns luxury hotels in the Cotswolds and Northumberland, for Hand Picked Hotels, which owns Bath's Bailbrook House, and in several other four-star hotels across the UK.
He has also been involved in a number of large-scale acquisitions and refurbishments, including one in the region of £28m with Conde Nast.
With such a diverse and in-depth understanding of the corporate and operations sides of hospitality, along with an impressive knowledge of food and beverage, Kaleidoscope said Ashley was now in charge of overseeing the complete makeover of Bishopstrow with group founders Ian and Christa Taylor and managing director Jonathan Walker.
Set in 27 acres of countryside along the River Wylye with a Doric temple and other historic Grade II listed monuments, the hotel has 32 rooms, spa and wellness facilities and the Maple Bar and Terrace.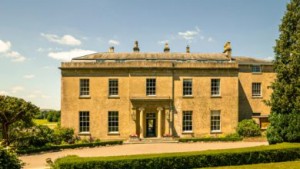 At the time of the £5.5m acquisition, Ian and Christa Taylor said they had ambitions to make the hotel heavily outdoor-oriented.
The couple are known for buying small hotels and transforming them into upmarket boutique venues full of idiosyncrasies and unusual décor, often with items from their own art collection.
They also own The Bird, Bath – formerly the County Hotel – on Pulteney Road, which they bought in 2018, increasing the number of bedrooms from 27 to 31 and adding vibrant new meeting spaces and public areas, and 31-bedroom Homewood, also acquired in 2018 and which is set in 21 acres of gardens in Freshford.
In 2019 they sold No.15 Great Pulteney three years after they transformed it from a row of unloved Georgian terrace houses into a multi award-winning 40-bedroom boutique venue.
Ashley said joining Kaleidoscope was a privilege. "I have watched the team from afar for many years and have always been in awe of the incredible journeys they take their venues on to create something unique, eccentric, and luxurious," he added.
"This is a very exciting next step in my career. The plans for Bishopstrow are immense and I look forward to being able to work creatively with the team to transform the hotel into something amazing.
"To work with both Jonathan and Ian is an honour, and I look forward to evolving my learning and building upon my current skill sets with them and their decades of fantastic industry experience."
Jonathan Walker, who is a co-investor in Bishopstrow Hotel & Spa, said: "Ashley's experience is second to none, as is his passion for the industry.
"You can see that hospitality flows through him and that his practices prior to Bishopstrow have grown him into an incredibly efficient and effective operations manager.
"I look forward to seeing what Ashley brings to the team and how his knowledge will mould and shape the future of Bishopstrow."