It sounds like every student's dream task – a field trip to a brewery. But that is exactly what a group from Bath Spa University have done as part of their studies.
The second-year Biology in Society and Applied Microbiology students visited Bath's Electric Bear craft brewery to learn about the industrial processes involved in making its beer, along with finding out more about the brewing industry.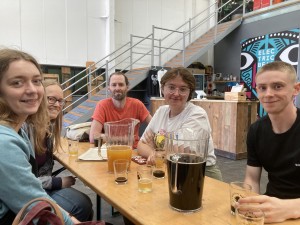 The fact-finding trip to Electric Bear's Brassmill Lane site ended with a chance to taste the beer – all, of course, in the name of academic research.
Bath Spa University senior lecturer in Human Biology, Dr Samantha Lane, said field trips were an important part of the Biology curriculum as they gave students the opportunity to see first-hand how the topics they study can be applied to real-world situations.
"We run a range of field trips for all of our Biology courses across the academic year," she added.
"These may be related to the development of particular skills, such as habitat surveys and wildlife photography, or they are used to expose students to working environments, such as in the food and drink industry.
"In this case, students had carried out lab-based fermentation reactions on a small scale, and then this trip enabled us to project those processes into an industrial environment, where students could see and taste them being applied.
"They could also speak to those employed in this sector, opening up potential graduate destinations which students might otherwise not have thought of."
During the remainder of their course, the students will explore themes such as ecology, environmental management, microbiology, human pathophysiology, biodiversity and food analysis.
They will also be able to continue to make the most of the university's unique Newton Park campus, with its rich variety of woodland, grassland and freshwater habitats, which is used extensively in practical work.
Bath Spa, which has more than 8,000 students, also has sites at Sion Hill and Locksbrook in Bath and at Corsham.
Electric Bear was launched in 2015 by former home-brewer Chris Lewis, who named it after the 19th century Bear Brewery in Bear Flat.
It was acquired last year by David Horner, managing director of Bath-based asset management firm Chelverton.
The brewery is known for its 4.6% gluten free Helles lager Mixtape, 4.2% American pale ale Werrrd! and 5% pale ale Tondo.