Bath's office market is enjoying a period of very positive growth, according to new research from property agents in the city, as new high-quality space has become available.
As a result, headline rents – which reached a record £36 per sq ft in 2022 – are expected to rise further to £38 per sq ft over the next 12-18 months as the current supply of new and refurbished grade A space is rapidly taken up.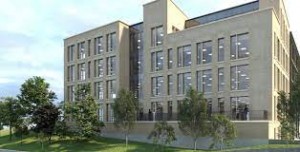 Key to Bath's office rebound has been No.1 Bath Quays, pictured right, the flagship 44,470 sq ft building which is a key part of Bath & North East Somerset Council's (B&NES) flagship Bath Quays South regeneration project.
The building's 9,500 sq ft penthouse floor was taken by financial services consultancy and software provider Altus, which relocated from Queen Square House, while chartered financial planning group Fidelius has moved into 5,822 sq ft on the building's first floor after relocating from James St West.
At the same time a £4m refurbishment of the Royal Mead office scheme on Railway Place released 25,000 sq ft of much-needed quality accommodation onto the market, 7,000 sq ft of it taken by US software developer SmartBear.
Meanwhile, space is now available in Newark Works, the Grade II listed Victorian industrial buildings at Bath Quays that were originally home to crane manufacturer Stothert & Pitt.
There was also a large increase in the supply of office accommodation to 271,366 sq ft.
Regeneration specialists TCN has sensitively restored and transformed the once derelict buildings into flexible office space to give Bath its first – and much-needed – largescale creative industry hub.
In its latest Bath office market report, property agency CSquared said last year 56 deals totalling around 85,000 sq ft were completed in the city – higher than the past three-year average of 70,000 sq ft.
"Modern, high-quality, open-plan space has been in high demand but with little supply coming online," CSquared said.
It said grade A supply now totalled 64,115 sq ft, the highest for over three years, including buildings such as 45,000 sq ft at No.1 Bath Quays, 45,000 sq ft of workspace at Newark Works, and 25,000 sq ft of refurbished space at Royal Mead, pictured above.
"These new offices are not only attracting the attention of established businesses but also the growth of entrepreneurs to the market.
"With the increase of innovative smaller businesses forming out of the lockdowns, we have recognised a shift in the way many of these new businesses work and the type of spaces they require which is being accommodated at schemes like Newark Works," it added.
"They offer unparalleled amenities and have reached headline rents as high as £36 sq ft.
"Following the completion of No.1 Bath Quays and the refurbishment of Royal Mead this year, Bath can now offer larger, sustainable, modern office accommodation for the first time in four to five years."
The latest Market Monitor from regional property agents Alder King also draws attention to Bath's office supply increased after a number of years of limited stock.
"This has also led to a much-needed improvement in the quality of available space. New accommodation at Bath Quays and a number of comprehensive refurbishments in the city centre now provide a range of high-quality options," it said.
It also predicts headline rents will increase further throughout this year as more deals complete at No.1 Bath Quays, Newark Works and Royal Mead.
New schemes coming onto the market include Trimbridge House on Trim St where 10,452 sq ft of space is currently undergoing comprehensive refurbishment.
Pictured above: Mayor of Bath Cllr Rob Appleyard at the opening of SmartBear's office in Royal Mead, with, from left, Paramount sales director Kevin Mashford and SmartBear chief product officer Dan Faulkner, global talent acquisition & culture vice-president Nikki Morcom, brand and corporate communications senior vice-president Maureen Plowman, senior director of engineering Mark Fulbrook, and vice-president of international finance Mary Quinn. Photo by Jon Craig. @JonCraig_Photos